Services & Rates
Pricing Changes
Note: Effective January 1st, 2019 - Service pricing has changed. Please note the new prices when booking your appointment.
New Wellness Packages are also available. These Wellness Packages provide our clientele not only the best bang for their buck, but also the most efficient and effective ways to maintain and improve their Health and Wellness.
Deep Tissue Massage
30/60/90/120 Minutes minutes: $40/$70/$95/$130
Enjoy a session of deep muscle targeting. Our therapist will work those hard to reach muscles and leave our overworked and athletic customers feeling pampered, relaxed, and spoiled.
30 Minute Sessions - Typically during a 30 minute session, our therapist is able to target two areas of the body - One large area and one small area. For example - The back and the neck or the legs and the feet. If you are looking for work on multiple areas, you would be better off choosing a longer session.
60 Minute Sessions - Typically during a 60 minute session, our therapist is able to perform a full body massage with targeted work on one or more specified areas of the body.
90 Minute Sessions - During a typical 90 minute session, our therapist is able to perform a full body massage with targeted work on multiple areas of the body.
Deep Tissue Massage is a form of bodywork that aims to relieve tension in the deeper layers of tissue in the body. Deep Tissue Massage is a highly effective method for releasing chronic stress areas due to misalignment, repetitive motions, and past lingering injuries. Due to the nature of the deep tissue work, open communication during the session is crucial to make sure you don't get too uncomfortable. Keep in mind that soreness is pretty common after the treatment, and that plenty of water should be ingested to aid with the flushing and removal of toxins that will have been released from the deep tissue during the session.
Swedish Massage
30/60/90 Minutes minutes: $40/$65/$90
Enjoy a session of relaxation and pampering. Our therapist will spoil you from head to toe with a light, calming, traditional massage.
Swedish Massage is a very relaxing and therapeutic style of bodywork. It combines oils or lotion with an array of strokes such as rolling, kneading, and percussion to help the body improve its circulation. The benefits of this type of bodywork are wide-ranging and include relief from aches and pains, decreased stress levels in the body, enhanced mental clarity, improved appearance, and greater flexibility.
Couples Massage
60/90 minutes minutes: $140, $190
Spoil yourself and that special someone in your life. Our therapists will pamper you and your companion with your choice of Swedish or Deep Tissue massage.
Includes 2 - 60 or 90 minute massages performed in the same room.
Appointments for couples massages must be made over the phone and can not be booked online.
Hot Stone Massage
60/90 minutes minutes: $75/$105
Enjoy a session of warmth and bliss. Our therapist will use heated stones, hand selected from high in the Uinta Mountains from the Blacks Fork River combined with Swedish massage to warm, spoil, and rejuvenate the body. Our clients love our large stomach stone. Come experience this for yourself.
Lomi Lomi
60/90 minutes minutes: $70/$100
Enjoy a Hawaiian massage experience. Our therapist will pamper and spoil your mind, body, and spirit with this energy releasing massage straight from the Pacific Islands.
Lomi Lomi is the Hawaiian word for "massage", and it is part of a larger native Hawaiian tradition of healing and natural body care. According to Hawaiian tradition, all living beings are seeking a state of balance and love in the world. During a Lomi Lomi session, therefore, we focus on not only relaxing your body through gentle touch, but also reviving your spirit and filling your body with the energy of love. Note: Draping is minimal in a Lomi Lomi massage. It is not for the extremely self-conscious individual.
Four Hand Lomi Lomi
During a 4-Hand Lomi Lomi session, the focus is to balance the body as well as the mind.
The mind can only focus on one thing at a time, so with 4-hands, your spirit will be renewed, leaving the body filled with the energy of love.
There is minimal draping with a Lomi Lomi session. It is not for the extremely self-conscious individual.
Appointments for 4 Hand Lomi Lomi must be scheduled by phone and can not be booked online.
Thai Massage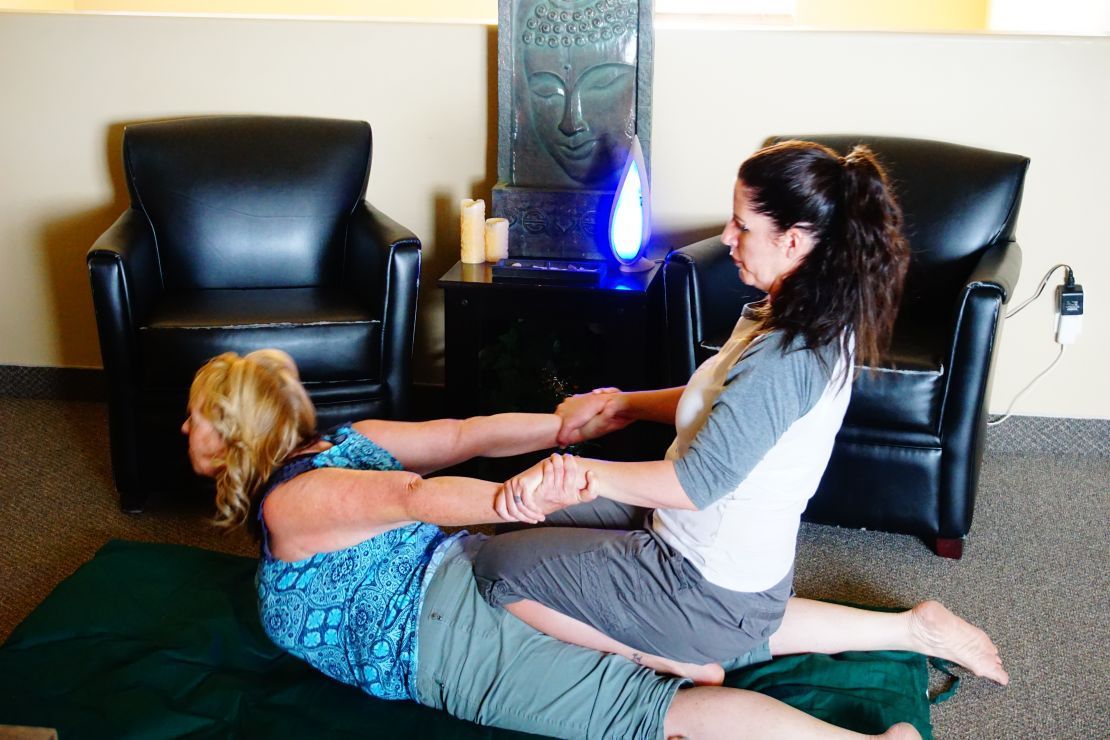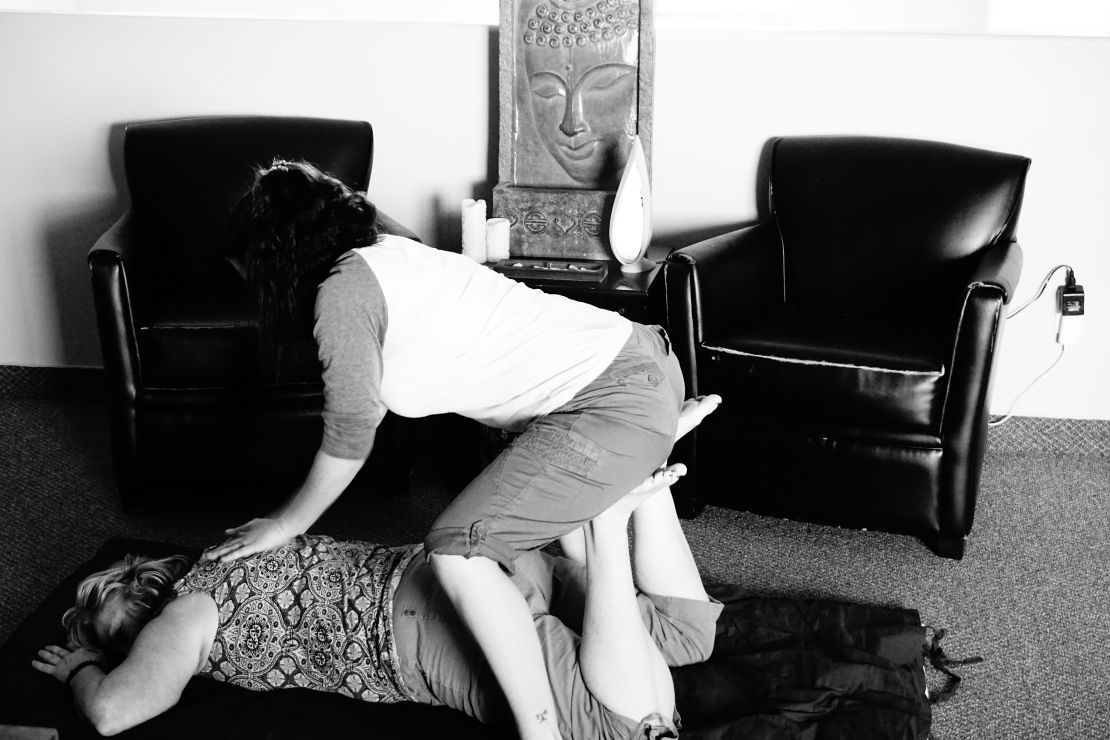 Enjoy a truly Asian experience. Our therapist will move you through Yoga postures and SEN line manipulations which will increase your flexibility, release negativity, and leave you feeling pampered and spoiled.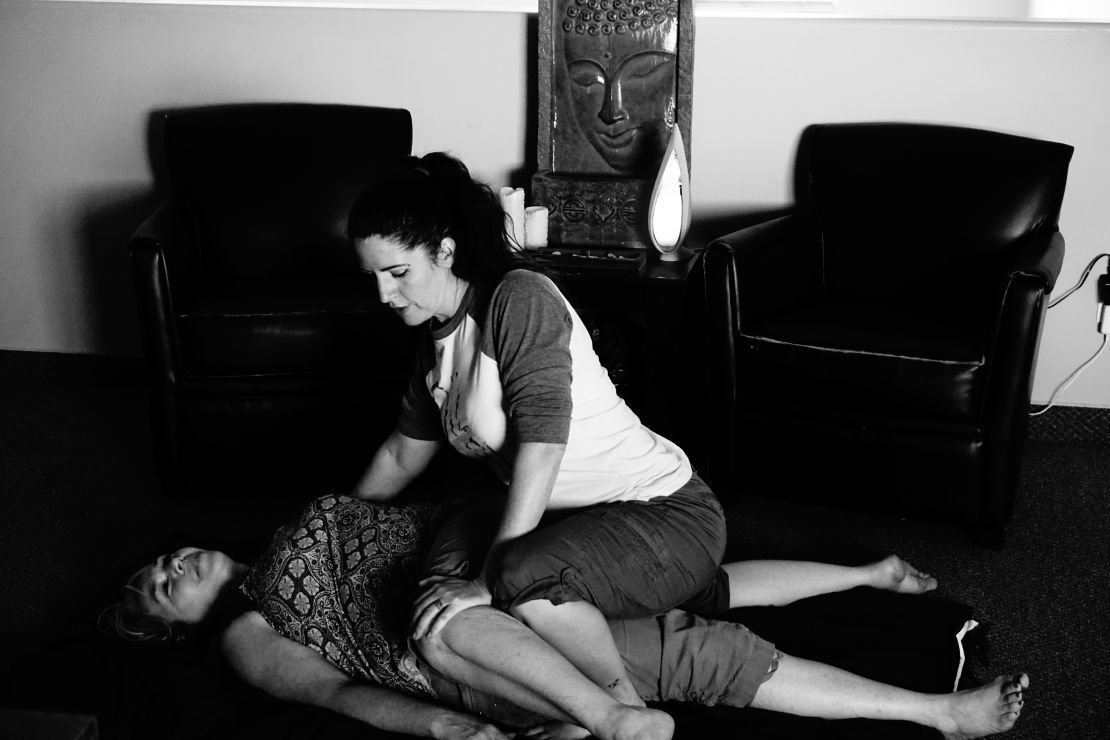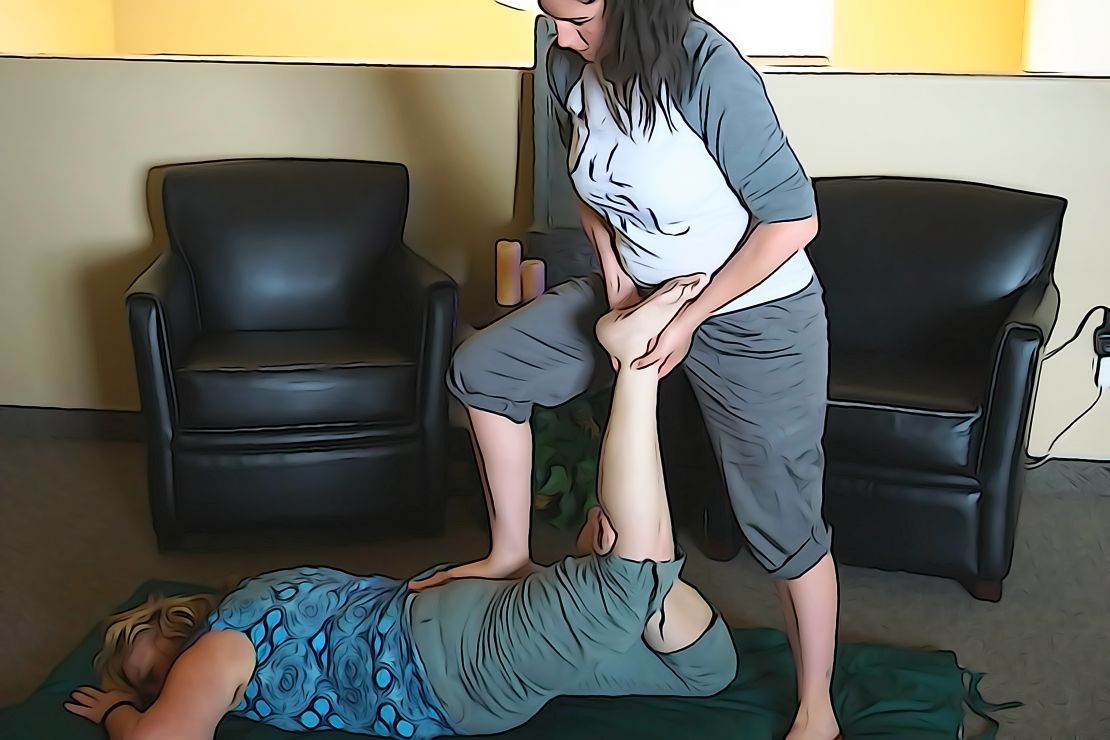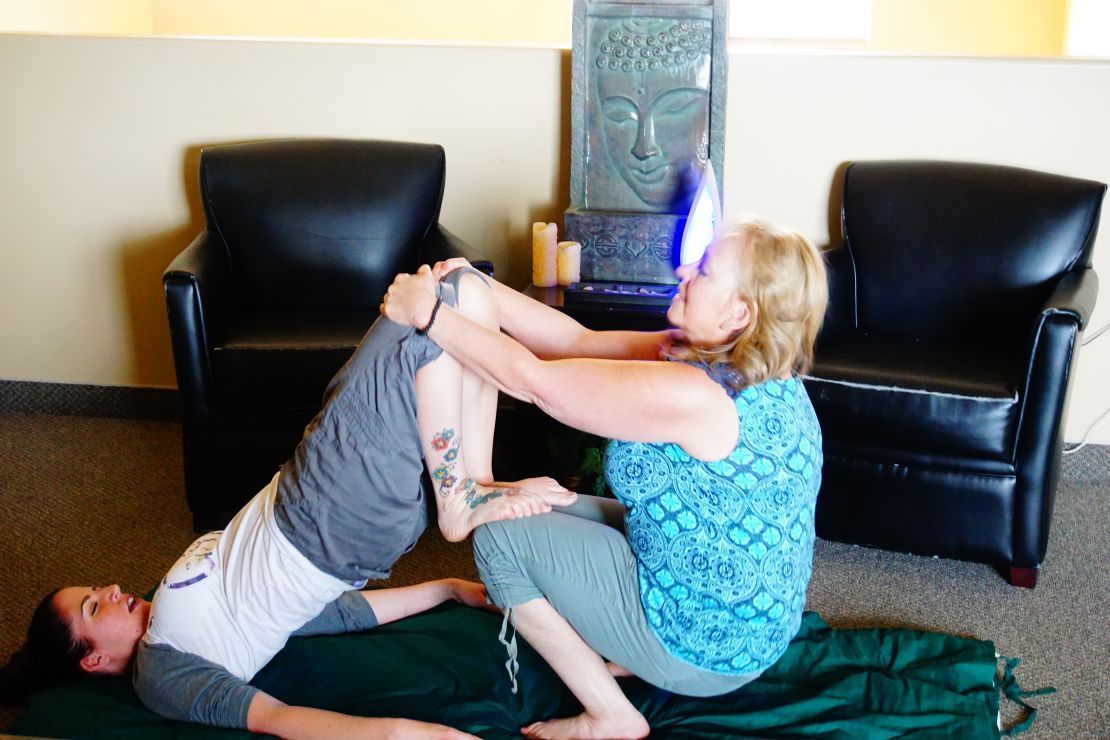 Thai massage is more energizing and rigorous than most other forms of massage therapy. It's also called Thai Yoga massage, because we use our hands, knees, legs, and feet to move you into a series of yoga-like postures and stretches. Our clients say Thai massage is like doing yoga without doing any of the work. No oil is applied, so you are fully dressed during the session. A single Thai massage session will help you release stress and relieve pain, and help you function more effectively at work and home.
Prenatal Massage
Expecting mothers need to be spoiled too. Our therapist will pamper those aching mucles caused from carrying baby and leave mommy feeling relaxed and rejuvenated.
Pregnancy Massage is a style of bodywork designed specifically for pregnant women. Pregnancy is a time when a woman's body endures tremendous stress due to dramatic physical and emotional changes. Using various techniques specially developed for the expecting mother, Pregnancy Massage helps release the pain and discomfort experienced throughout pregnancy. The benefits are profound, including emotional support, the relief of joint pain due to extra weight and postural imbalance, and improved breathing and relaxation.
CranioSacral
60, 90 minutes: $85, $115
Spoil your cranial sacral system with this protocol designed to enhance the flow of your cerebral spinal fluid. Our therapist will hone in to this subtle energy system and assist your body in reaching still-poing, balancing the skeletal and muscular systems, while also releasing negativity and blockages.
CranioSacral Therapy is a gentle yet powerful technique that is effective in releasing neck pain, back pain, and mental stress (among other things). It does this by optimizing the movement of cerebrospinal fluid through the spine and around the skull. Developed by physician William Sutherland, this therapy provides a very soothing and relaxing healing experience.
Myofascial Release
Myofascial release is a form of soft tissue therapy intended to eliminate pain, increase range of motion, and rebalance the entire body. It does this by using massage techniques to stretch the fascia and release the bonds that exist between the fascia, muscles and bones. Direct myofascial release is sometimes known as deep tissue work. Indirect release applies light pressure and gently stretches the fascia; this allows for increased blood circulation and relief from pain. Come give it a try.
Fire and Ice Massage
Let us pamper you with our unique Fire and Ice Massage. What makes this massage unique is our custom made lotion infused with Cinnamon and Peppermint Essential Oils to stimulate the body, improve circulation and lymphatic flow.
Detox Foot Therapy
Enjoy a relaxing foot bath while releasing toxins. Our ionic detox machine will spoil your body while your tender footsies soak. When the detoxing is complete, our therapists will moisturize and massage each foot and you will leave feeling relaxed and pampered.
Mineral Mud Foot Therapy
Pamper those feet with some mud therapy. Our products come from the dead sea and contain essential minerals that your body will love. Foot therapy includes Epsom salt soak, exfoliating salt scrub on feet and lower legs, mineral mud application and foot and lower leg massage.
Back Detox with Massage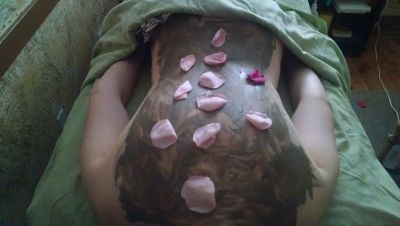 Treat yourself to an amazing spa experience. Our therapist will cover your back with Mineral Mud and rose petals and then wrap you up nice and tight. While the Mineral Mud processes, you will enjoy a relaxing foot massage. When the processing is complete and the mud is cleaned off, you will be spoiled with a 30 minute back massage.
This detox/massage combination is excellent for muscle pain, tension, nerve pain, stress, and overall relaxation and well being.
Couples Back Detox with Massage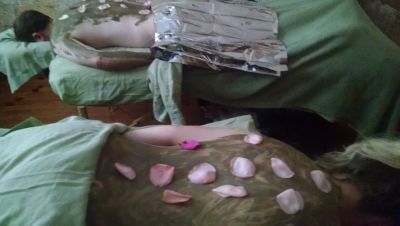 Treat yourself and your loved one to an amazing spa experience. Our therapists will apply Mineral Mud and rose petals to your back and wrap you up tight. While the mud and petals processes, you will both enjoy a relaxing foot massage. After the mud has processed and been wiped clean, you will both be spoiled with a 30 min. back massage.
This detox/massage combination is excellent for back pain, tension, stress relief, nerve pain, and overall relaxation and well-being.
Couples appointments must be reserved by calling 435-257-5367 as online scheduling is not currently available.
Foot Zone Therapy
30/75 minutes: $35.00/$60.00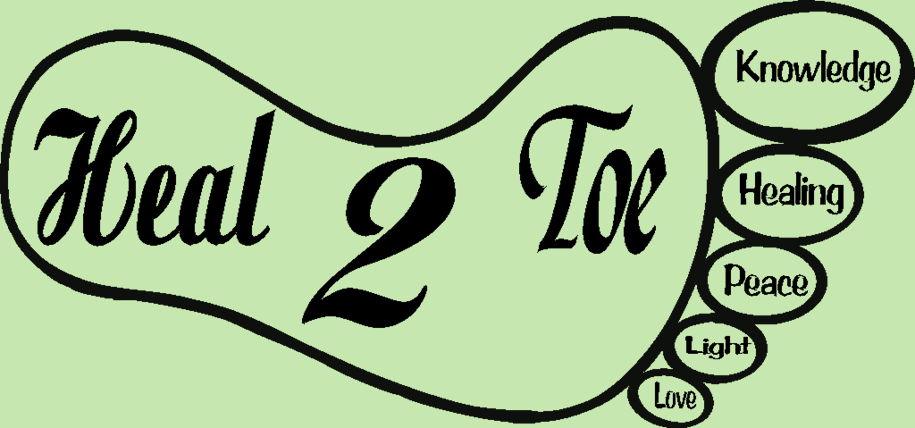 Stimulation of the 10 Meridians, stimulation and opening of reflex points. Application of essential oils for a overall sense of well-being.
Jemi Zone with Myofascia Blast
Opening of the energies with a Jemi Zone and softening of soft tissue for increased flexibility.
Anti-Aging Facial
Spoil your skin with high end products containing essential minerals from the dead sea. Facial includes cleansing, exfoliation, anti-aging treatment mask, toner, nourishing serum, and moisturizer. Enjoy a 10 min foot massage and 10 min scalp and neck massage while the mask processes.
Mineral Mud Facial
Your face wants some pampering of its own. This facial uses high end products and mineral mud straight from the dead sea. Facial includes cleansing, exfoliation, mineral mud treatment mask, toner, nourishing serum, and moisturizer. Great for deep cleansing and detoxing the pores. Enjoy a 10 min foot massage and 10 min scalp and neck massage while the mask processes.
Energy Work
Energy work is based on the belief that everyone has a "life force", and that the body needs to sustain its balance for optimum health. Anytime you experience emotional or physical illness, it indicates that your life force has simply become unbalanced. We work directly with your energy field to restore balance and flow to your entire system. And once your energy field has been restored to full health, your body will follow.
Typical energy work sessions last about an hour and can include many different energy release techniques. During a typical session, our Energy Work Facilitator connects energy fields with the client and through touch and "sensing" designs an appropriate treatment plan for that session.
Any of these specific Energy Work techniques are offered at request of the client.
AURA CLEANSE
$45.00 per 30 minutes.
Spoil your spirit with an aura cleanse. Our therapist will assist your body in releasing emotion and spiritual negativity from your energy field.
CHAKRA BALANCE
$85.00 per 60 minutes
Revive a worn down or tired body and spirit. Spoil yourself with Chakra Balancing. Out therapist will guide your body in opening, expanding, and balancing your 7 vital energy centers.
MERIDIAN THERAPY
$85.00 per 60 minutes
Spoil and pamper your energy pathways. Our therapist will guide the energy moving your meridians and assist your body in releasing any blockages or stagnations that are causing dis-comfort or dis-ease.
ENERGY WORK/BODY TALK
$85.00 per 60 minutes
Our most commongly asked for energy work service. Our therapist will energetically communicate with your body in order to customize your energy session to your body's needs.
REMOTE ENERGETIC BODY SCAN
$95.00 per 60 minutes
This Remote Energetic Body Scan is just like an in-house body scan except that the client does not need to be in the same vicinity as the Energy Worker. Our Energy Worker will connect her energy field with the clients energy field and scan the energetic form of the client to reveal areas of trapped or stagnant energy, receive messages from the clients angels or guides, or release any cords of negative attachment.
If you would like to book a Remote Energetic Body Scan, please book an appt online and choose this option. In the notes, please provide your full name, age, and any specific pains or problems that you would like to be addressed during the session. Also please provide your email address. Once the scan is completed, an invoice will be emailed to you. Once that invoice is paid, the Remote Scan session notes will be sent to your email. If you have any questions, please do not hesitate to send us an email.
Reiki
Reiki is a Japanese form of energy work that cleanses and balances the energy system in the body. As a result, the body's natural self-healing mechanisms strengthen, helping to establish optimum health. During a session, I work directly with your energy field to remove blockages, detoxify your system, and restore your vital life force energy. Reiki utilizes a gentle laying on of hands to conduct the necessary energy force between us. The benefits of Reiki range from the release of habitual mental/emotional stress to alleviating chronic pain.
Frequency Emotional Release
We all have frequencies in our bodies. The higher the frequency the better we feel. every emotion has a frequency. When the body feels sick or afraid our frequency drops. In this session we will work on finding emotions that are keeping us at a lower frequency. By identifying these emotions and removing them from our bodies we raise the frequency and give ourselves a better chance of healing.
VSER Foot Technique
60/90 minutes. minutes: $70/$95
Spoil your body with the VSER Foot Technique. VSER stands for Visceral Stimulation and Emotional Release. This technique is similar to reflexology and foot zoning but is designed specifically to ground, connect, and center you. Our therapist will pinpoint and hold specific reflex points on the bottoms of your feet to stimulate vital organs, move stagnant energy, and enhance your physical and emotional well-being.
This technique can take anywhere from 60 - 90 minutes, depending on the person and how quickly their body will release and come into balance. Please allow enough time in your schedule when booking.
AromaTouch Technique
Spoil yourself with bodyzoning. Our therapist will use 8 specific essential oils on the zones of your back and feet to target stress relief, immune enhancement, muscle pain and tension, and to promote balance within the body.
Emotion Code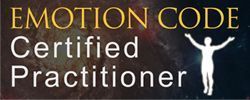 Spoil and pamper yourself with an Emotion Code session. Emotion Code is a technique which, when used along with energy or muscle testing, can quickly and easily release trapped emotions and trauma. These trapped energies are a major contributor to aches, pains, tension, headaches, depression, anxiety, etc. Our Emotion Code Certified Practitioner will test you for these trapped energies and help your body to release them.
Want to know more about this technique? Visit thehealerslibrary.com and click on Emotion Code
Personal Angel Card Reading
Looking for guidance? Wanting to hear messages from your angels or spirit guides? Our Intuitive Energy Work Facilitator will connect to your energy field and align your cards so that you can receive the messages meant just for you. These readings are individually customized for the receiver. Decks, layouts, symbolism and guidance are all intuitively guided to ensure a one of a kind reading experience. This is not a "cookie cutter, run of the meal" reading.
Ear Candling
Per session minutes: $20.00
Ear Candling has been shown to be beneficial in removal of built up ear wax, ear pain, swimmers ear, ear pressure, and sinus pressure. During a typical session, a hollow candle is placed in the ear canal and the tip is lit. The fire on the opposite end of the candle creates suction and therefore, reduces pressure. May require more then one session to get optimum results.
Zyto Compass Scan
The ZYTO Compass is the original and trusted wellness scanner used by thousands of health minded individuals. Using innovative biocommunication technology, the Compass system helps customers maintain general wellness by providing individualized information when choosing nutritional products, oils, and supplements.
The Zyto Compass will use biofeedback to scan your hand, test which frequencies are out of range, and give you a list of doTERRA products customized specifically for you to bring those frequencies back into range.  Come get your hand scan today!